Allen's Signs
---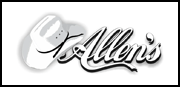 Longer-Lasting Signage At The Best Possible Price
Make the most of your visual opportunities! Our experienced team use only the best quality products to make your sign appeal to customers for years to come. Our UV rated inks are printed on UV rated vinyls, then application is on to high quality backing products. This ensures your sign looks amazing, reaching new clients and reminding your current clients that you your business is vibrant and relevant. For over 35 years, our team at Allen's has been taking care of their customers, and we know how to create a visual look that makes a great impression every time.
"Thank you Garry Allen & team for the outstanding service and absolutely FABulous signage you did for us!!!" – Jo-Ann
The Best Signs on the Tablelands
Printing in Large Format
Show Stands
Banners & Flags
Promotional Items
Business Cards
Office & Shop Signage
Workshop & Farm Signage
Signs for Biosecurity
Signs for Safety
Vehicular Signs
Here For You
We understand the importance of communicating your business to the local area. As a small business ourselves, we have worked hard to make customer satisfaction a high priority. Because we have been in business locally for over three decades, we have seen what makes a business thrive and what makes it slip away. Trust the team at Allen's to go above and beyond to keep your business at the top of the minds of your customers.
"I cannot recommend you guys enough for the AWESOME SERVICE, they have gone the extra mile to help me get my business up and running." – Dana
Contact Allen's Today – Find Out How We Can Promote Your Business Locally!