Barron River Lawns
---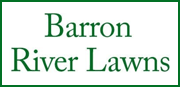 Opening Hours
Mo-Fr: 7:00am-5:00pm
Sa-Su: Closed
Wondering Why Their Grass Is Always Greener?
Maybe they got their turf from Barron River Lawns! If you struggle with your grass growing evenly, no matter how well you water the lawn or keep up with the mowing, you should give the team at Barron River Lawns a call. The secret to the best-kept grass can be yours! Caring for your lawn doesn't need to take hours and hours of your life. Find out how your yard can be the envy of your neighbours, and the delight of your property.
Specialists in Flawless Lawns
For an even appearance, a beautiful texture and a low-maintenance option, Barron River Lawns create turf solutions that you have to see to believe. Because they specialize in turf, you can rely on their understanding and ability to turn your grass area into a stunning place in your neighbourhood. They have the know-how in all areas of turf development, including the all-important surface preparation, installation and ongoing care. Make your grass look flawless now and into the future, whether at your home or your commercial property.
Full Service For Long-Lasting Quality
Surface and Soil Preparation
Removal Of Existing Grass
Turf Delivery
Installation
High Quality Kings Pride Buffalo Turf
Surface Management and Maintenance
Contact Us Today and Take Steps Towards Your Dream Lawn!