Bin Mates
---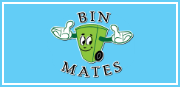 Opening Hours
Mo-Su: 7:00am-8:00pm
Who Wants A Stinky Bin Full Of Bacteria And Bugs?
Don't dread the thought of having to clean out your bin – we'll do the dirty work and leave it as good as new. Hygienically clean bins keep the germs at bay and the flies away. Imagine how good it will be to have your bin professionally sanitised, cleaned and deodorised on the same day that it's emptied!
"Thanks Bridget for helping keep the bin stink at bay! Great customer service and always does a diligent job." - Kat
The Only Wheelie Bin Cleaning Specialists On The Tablelands
Reduce Health Hazards
Hygienically Clean Using Thorough Five-Step Process
Biodegradable Antibacterial Detergent
Water Saving (High Pressure, Low Volume)
Environmentally Safe
Fresh Smelling Result!
Why Do It Yourself?
For our affordable price, you save yourself heaps of time and frustration. We have bin cleaning down to a fine art, and use a combination of hand mopping, high pressure machine cleaning, dry mopping and deodorising every time we clean your bin. Our efficiency makes your life easier! Check out our website for more details. Currently servicing Atherton, Tolga, Rangeview, Kairi, Malanda and Yungaburra, we are more than willing to discuss new areas so get in touch today.
"Just had my bins cleaned this morning which is the first time ever! My gosh they look and smell amazing! ... Highly recommend Bin Mates!" - Tania
Call Now And Make Your Next Bin Day A Good Day!