Bud 'n' Bloom
---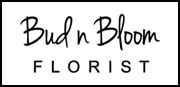 32b Main Street
Atherton 4883
Opening Hours
Mo-Fr: 9:00am-2:00pm
Sa-Su: Closed
Stunning Flowers - Just Around the Corner
Whether you are buying buds to take to your friend's place or buying blooms to be sent across the world, you can trust Theresa and Stephanie Barletta at Bud 'n' Bloom to create an amazing collection. These local sisters are passionate about combining modern flair with traditional style, and will impress you with their beautiful bouquets, boxes, posies, arrangements and more.
Special Events
With experience behind them, these florists will fill your event with colour and sweet floral fragrance. From funeral tributes to wedding bouquets, baby hampers to Mothers Day celebrations, whatever you need is available instore. Come in and make your own selection, or discuss your particular requirements so the girls can find something that suits.
A Little Bit More
Beyond flowers, Bud 'n' Bloom can offer a delightful range of Ecoya Candles including coconut, elderflower, lemongrass, vanilla bean, sweet pea and jasmine just to name a few. Perhaps a teddy bear is perfect for a new baby's hamper, or a five year old birthday boy is longing for a bunch of helium balloons. Don't be fooled by the name- Bud 'n' Bloom has a full range of gift options for you.
Drop In And Enjoy Our Range, Or Make An Order Today