Cleall's Butchery
---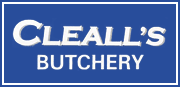 75 Byrnes St
Mareeba 4880
Opening Hours
Mo-Fr: 6:00am-5:30pm
Sa: 6:00am-12:30pm
Su: Closed
Welcome to Cleall's Butchery!
Conveniently located on Byrnes Street, Mareeba, Cleall's Butchery has a great range of locally sourced and freshly prepared meats and meals to help you feed yourself or host a whole family BBQ!
Our expert team of butchers have been serving locals for a couple of generations, and can help you with a range of gourmet sausages, lamb, pork or beef steaks and chops, or drop in one weekend to cook up a roast chook, side of beef or pork with amazing crackling.
We also stock a range of popular filo pastry ready to cook dinner delights, perfect for a hungry family and ready in minutes.
Whatever you're craving, Cleall's Butchery have the meats and meals prepped for your freezer or dinner table, so why not drop in today!