Coffee & Clay
---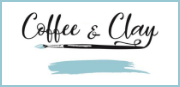 Shop 2
20 Eacham Road
Yungaburra 4884
Opening Hours
Mo-Tu: Closed
We-Fr: 7:00am-4:00pm
Sa-Su: 7:00am-3:00pm
A Welcoming Space For Your Next Cuppa
"Friendly atmosphere. Recommend this nice little establishment for brekky or lunch. Well worth your morning." - Errol
Like no other cafe, this little gem in Yungaburra will have you coming back again and again. Whether you are looking for a quiet coffee or a quick bite, you will love the cheerful service from staff who are happy to see you. With a wide range of unique tea blends, great coffee and decadent cakes, you will be spoiled for choice. Our South American inspired food is delicious, and we happily cater for any dietary restrictions with options like Vegetarian, Vegan, Gluten-Free, Keto, or Dairy-Free.
"This place deserves fantastic reviews; their coffee and service is extremely high in my books. Never too busy to serve you. Well done and we will be back before we head home." - Maureen
Get Creative!
Let us inspire your creativity with our selection of unpainted ceramics available for you to decorate. Our staff can glaze and fire your work, ready for you to collect from our cafe or from your letterbox. Come along to one of our famous Ladies Pottery Nights, or bring the kids for some artistic expression. Young ones love our children's room, just right for storytime, play-based learning, colouring and some pretty popular toys.
"The staff were beautiful - so friendly and accommodating for this fussy melted cheese connoisseur! The ambience was welcoming, relaxed and modern. The food was delicious!" - Deb
Come And Enjoy Coffee & Clay!