Coxen Cleaning Supplies
---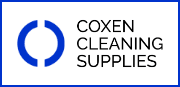 1-5 Jubilee Street
Cairns 4870
Opening Hours
Mo-Fr: 8:00am-5:00pm
Sa: 8:30am-12:00pm
Su: Closed
Over 30 Years At The Frontline Of Cleaning Equipment And Supplies
In Cairns, when you need top quality cleaning products or chemicals, you gotta call Coxens. With nearly four decades in the business, we have dedicated our time to sourcing the most reliable supplies to make light work of your mess. Our team manufactures a large range of cleaning chemicals that are powerful and environmentally friendly, and because they are made locally they are ready for you whenever you need them. Our convenient Cairns City location, just 50 metres from Cairns Central, has everything you need for all applications in commercial and industrial cleaning.
Ask Us Which Product Is Perfect For Your Situation
Chemicals
Brooms and mops
Buckets
Micro-fibre cloths and dusters
Deodorisers
Safety mats
Toilet tissue
Hand towels
Hand cleaners
Garbage bags
Janitorial carts
Window cleaning supplies
Absorbents, poly pads and bunding
Cabinets for safety storage
Let Us Make Your Cleaning More Efficient
With our custom-made spill kits, we ensure you have the perfect size as well as back-up stock so they are replenished promptly. Talk to us about our safety storage showers and eyewashes, making sure your occupational health and safety requirements are met. With our extensive range of cleaning machinery, you will find the right tool for the job: carpet extractors to floor scrubbers, sweepers to steamers, as well as floor polishers, air movers and heavy duty vacuums. Unlike other companies, we are delighted to offer training on any equipment we supply - it's all part of the Coxen difference.
Let Our Experienced Staff Supply You With What You Need - Today!