Graeme Shoe Store
---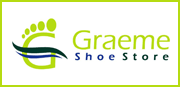 127-129 Byrnes St
Mareeba
Opening Hours
Mo-Fr: 9:00am-4:00pm
Sa: 9:00am-12:00pm
Su: Closed
Cool And Comfort; Fashion And Fit
Nothing beats quality shoes, fitted professionally by an experienced shoe specialist. For over 27 years, Graeme Shoe Store has had an excellent reputation. Come in and meet Victor and Angie, and experience the difference of getting the perfect fit. With an ear for what you really need, they have the skills that will help you make a great choice from their wide range. Why risk buying from an online factory, where sizes differ, postage stings, and you have to make a guess that might result in a terrible fit? With Graeme Shoe Store, you can walk in today and walk out in shoes that will put a smile on your face.
"Always willing to help you find exactly what you need." - Mick
What More Could You Need?
Whether you need shoes for business or pleasure, work or school, the beach or the gym, we have a huge range. We stock only the highest quality products and brands so that our customers are happy every time.
Shoes
Work Boots
School Shoes
Sandals
Flats
Sneakers
Office Footwear
Children's Footwear
Comfort Shoes
"Always friendly and helpful, a great range of quality shoes at great prices." - Natarsha
More Than Just Footwear
We are delighted to offer our customers a range of luggage, bags and handbags. No matter your personal style, you are sure to find something just right. We will search high and low throughout our stock if we have to, whether you are after the perfect evening bag or an eye-catching suitcase. Let us help you!
"Fantastic customer service." - Kasia
Come In Today And Find What You Are Looking For!