Kreative Knook
---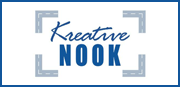 107 Byrnes St
Mareeba 4880
Sit back and enjoy your favourite crafts and sewing activities with help from the Kreative Knook!
Conveniently located on Byrnes Street, Mareeba, the Kreative Knook offers a large range of fabrics, patterns, wools, cotton, sewing, stitching, knitting and crocheting products and accessories.
The Kreative Knook team have quilting fabrics and wadding, dress making help, art and craft supplies and also service and sell leading brands of sewing machines.
There is also an extensive range of craft and hobby kits and ideas, with dyes, paints, brushes and model making options for every age.
For more information, drop in or give the Kreative Knook team a call today!