Mareeba Denture Service
---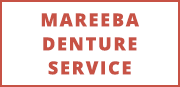 Opening Hours
Mo-Fr: 8:00am-5:00pm
Sa-Su: Closed
If you've become self-conscious about your smile, it's time to speak to the friendly team at the Mareeba Denture Service!
Our expert dental prosthetists ca help you regain your confidence with full or partial dentures that will feel comfortable and look great.
Developing and fitting dentures is simple with our latest technology and adjustment service, and we'll also guide you through the care and maintenance process you need to undertake at home to keep your smile looking shiny.
We can help you with dentures for a range of conditions, including periodontal disease, dental cavities, facial sagging and chewing and speaking issues.
For more information about how the Mareeba Denture Service team can help you, give us a call today!