Mareeba District Rodeo Assoc
---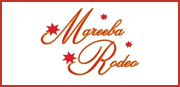 Kerribee Park
614 Bourke Development Road
Mareeba 4880
Opening Hours
Mo-Fr: 9:00am-3:00pm
Sa-Su: Closed
Join us for a great day out in the country at the Mareeba District Rodeo!
We believe that if you get in the saddle, you should be ready for the ride, so head to the Mareeba Distric Rodeo Association events to see all the action up close and personal.
First established in 1949, the Mareeba District Rodeo Association set up stock yards, chutes, an announcers stand, seating at the showgrounds in Davies Park.
By 1955 the Mareeba District Rodeo held it's first Australian championships and side shows and rides became part of the carnival atmosphere of this great local event.
The showgrounds complex now has a bar and dining area, souvenir and drink stalls, in what is now known as Kerribee Park, the home of the Mareeba District Rodeo.
For more information, give our team a call or visit our website!