MRT- Malin Refrigerated Transport
---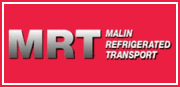 47 Chewko Road
Mareeba 4880
Get your goods and produce delivered on time and on budget with MRT- Malin Refrigerated Transport!
Our friendly team of logistics professionals have the knowledge and experience to ensure your refrigerated loads are trucked door-to-door in a timely manner, ensuring completely fresh and fuss-free transport.
The MRT- Malin Refrigerated Transport team are specialists in the transport of fresh produce and general freight, and have been operating in Mareeba and far north Queensland for over a decade.
For more information, or to book a time for us to visit your business to discuss refrigerated transport, give our team a call today!