Outback Engine & Custom
---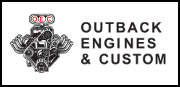 2 Zinc Street
Mount Garnet 4872
The Engine & Custom Specialists Who Know What They're Doing
Outback Engines & Custom is a family run business in Mt Garnet who have been in the industry for more than 30 years. Karl, the owner, is a qualified motor mechanic, a diesel fitter, an engine rebuilder, and a machine worker. They work on all motors, cars, and trucks both petrol and diesel. All component rebuilding is done by Benjamin in-house being acid cleaned, bead blasted, buffed, and painted to ensure the longevity of work. All fabrication work is done by Samuel who specialises in alloy, Chrome TIG, all metals with MIG, and full custom fabrications. They mandrill bend, notch pipe, make chassis, trays, tool boxes, fuel cells, and much more. Engine tuning and diagnosis is also available.
Range of Specialty Service They Provide:
Complete Engine and Transmission Rebuilds
Full Custom Fabrications
Component Rebuilds
Vehicle, Machinery, and Heavy Diesel
Suspension Removal and Replacement
Work with Alloy, Stainless, Chrome, Mild, and Gal
Weld with MIG, TIG, Stick, and Oxy
Mandrill Bending, Notch Pipe, and Sheet Work
No Public Vehicle Servicing
Restoration, Maintenance, and Remanufacture
If you require a big job done, at a good price and in a short time frame, then Outback Engines & Custom is there for you. Your input into the job is just as valuable as their know-how and expertise. This way you'll be guaranteed to end up with a custom job done the way you want it - at the right price.
For Your Engine And Custom Rebuild Done Right Give Karl A Ring Today!