Ravenshoe Hardware
---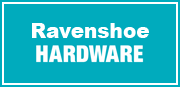 19 Wormboo Street
Ravenshoe 4888
Save Time - Find Everything In One Store at Ravenshoe Hardware
Don't drive all over the countryside looking for your hardware needs. At Ravenshoe Hardware, we specialise in quality stock that our locals love. Experience the benefits of personalised, cheerful service from staff who truly know what they are talking about. We have products that we use ourselves and highly recommend, and nothing that fails to meet our standards of excellence. Save yourself the frustration of a whole afternoon wasted going from shop to shop - come in to Ravenshoe Hardware and get going on your project sooner!
National Brand - Local Knowledge
The advantages of our affiliation with Home Timber & Hardware are many! Our network of warehouses and logistics makes our local store a hub of opportunity for clever shoppers. Browse our catalogue online, and pick it up as you go past or ask us to deliver it to you! Ask our staff and be pleasantly surprised by their recommendations. Go where the tradies go!
Quality You Can Rely On In Our Extensive Range
From tradies who know exactly what they want through to DIYers who need a hand, our customers agree that the products they buy here will last the test of time, and get the job done right.
Power Tools
Hand Tools
Gardening
Paint
Electrical
Whitegoods
Plumbing
Appliances
Building Supplies
Order And We'll Deliver, Or Come In To Find Just What You Need - Today!