Ray White Rural Atherton
---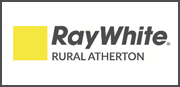 22 Main Street
Atherton 4883
Local Knowledge & National Strength
Enjoy the benefits of a real estate company with 108 years of experience, without sacrificing the reliable face-to-face service of a local group. Ray White Atherton really has the best of both worlds; just ask the community! With a reputation like theirs, they are the trusted name in the Tablelands.
"Suzey has excellent communication skills, drawing out of you what you really want in a property. No question is ever too hard for her to answer or find the answer to. Her local knowledge is astounding, and really helped me in deciding where I would like to live. She answers difficult questions in an honest gentle manner. Her patience is infinite! She carries her service right through the sales process, I really couldn't have been happier each time I have used her over the years. I am so confident in her abilities, I recommend her to anyone I know who needs a real estate agent." - Louise
Professional, Trusted Advice
From their renowned appraisal service for sellers through to their understanding of rural and lifestyle options for purchase in this most beautiful part of the country, they are proud to be your allies. Because the Ray White Atherton staff live and work in the area, they have had vast experience with everything from livestock properties to tree changes. Whether you are looking for an investment opportunity, a farm of your own or a rainforest balcony, the Ray White Atherton team can find it for you.
Residential
Lifestyle
Rural
Rental
Commercial
Business
Property Management
"Morgan demonstrated a high level of respect and courtesy to us during the purchasing process. He was readily available at all times to provide information and assist with any concerns. Morgan demonstrated a very professional approach but was also able to engage in a friendly and helpful way. We were so impressed with Morgan's approach that we would certainly look to using his services in the future" - William
Property Management For Financial Security
Maximise your financial returns through Ray White Atherton. With a zero tolerance policy towards rent arrears, access to current market intelligence, detailed inspection reports and exceptional standards for industry training, you cannot find a better company to align with.
"Margaret was a fantastic agent, communicator. She was very knowledgeable and a great problem solver all through the marketing process and never tired of keeping things moving. Margaret made a huge contribution to the successful outcome of this transaction and I would highly recommend her to anyone wanting to sell property in the Atherton area" – Karin
Contact Us Today - We Are Ready To Serve You