Rogato Bros Real Estate
---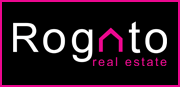 219 Byrnes Street
Mareeba 4880
Opening Hours
Mo-Th: 9:00am-5:00pm
Fr: 9:00am-4:00pm
Sa-Su: Closed
Find yourself in a better place with Rogato Real Estate!
If you're buying, selling or renting in beautiful Mareeba or surrounding areas, our friendly professional team of real estate agents can help.
The Rogato Real Estate understand that finding or selling a property can be a stressful time, so we pride ourselves on making it as easy as possible by guiding you every step of the way.
And if you're in between properties, our Handy Andy Storage facilities at two great locations in Mareeba can give you the breathing space you need at competitive pricing.
The friendly Rogato Real Estate team offer free appraisals for your property, so why not give us a call today!