Soncin Eletrical Pty Ltd
---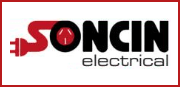 Do you want to capture the energy of the sun and reduce your power bills?
Speak to the friendly expert team at Soncin Electrical about their extensive range of solar and renewable energy options.
The Soncin Electrical team can help your set up a solar system for your home, office or industrial site, including:
Grid connect solar installations
Grid connect system design
SPS PV panel design and install
Energy storage with battery bank
Servicing Mareeba and surrounding areas, the Soncin Electrical team have the knowledge and experience to save you time and money on your solar installation.
For more information, give the Soncin Electrical team a call today!