Sticklizard Transport
---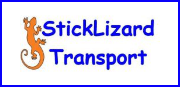 8452 Kennedy Highway
Atherton 4883
The Remote Area Transport And Shipping Container Specialists
Sticklizard Transport, on the Atherton Tablelands in Far North Queensland, specialises in remote area transport and shipping containers. Stickliard Transport sells, hires, and modifies shipping containers. Their large range of shipping containers can be modified into cabins, site offices, lunchrooms, accommodation units, or dangerous goods containers. Or just hire out their shipping containers as a self-pack removal service. Sticklizard Transport also has the largest tilt tray fleet on the Atherton Tablelands. Trucks with carrying capacities up to 10t and 9m in length, and trailer carrying capacities up to 13t. They also have a specialised 4WD All-terrain forklift for hire.
"Thanks, Joe for delivering my container to Mission Beach. Great service, kept informed every step of the way, and on time to the minute. Can't recommend more highly." - Vikki
Sticklizard's Large Range of Shipping Containers And Transport
• Shipping Containers in sizes of 8', 10' 20' or 40' • Buy, Hire, or Hire While You Buy Options • Huge Range of Modifications (Read Below) • Self-Pack Removal Service • Australia Wide Transport and Logistics • Largest Tilt Tray Fleet on the Atherton Tablelands • Specialised 4WD All-Terrain Forklift for Hire
Large Range Of Shipping Container Modifications
Sticklizard Transport can modify shipping containers for you to work out of or live in. These are just some of the modifications they offer. Personal access, glass sliding, and roller doors. Windows, screens, and shutters. Internal lining, floors, walls, and doors. Showers, toilets, basins, hot water systems, and pressure pumps. Air Conditioning, ventilation, and full electrical fit-outs. All these modifications are made to order.
"Very friendly, knowledgeable, excellent service. Highly Recommended." - Michael
Call Sticklizard Transport Today For All Your Shipping Container Needs!