Taylors Upholstery & Canvas
---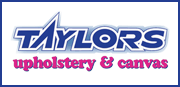 57 Byrnes Street
Mareeba 4880
Opening Hours
Mo-Th: 8:00am-5:00pm
Fr: 8:00am-3:00pm
Sa: By Appointment
Su: Closed
The Professional Upholsterer With A Wealth Of Experience
Taylors Upholstery & Canvas has been in the business for 34 years which means they've seen and done it all when it comes to upholstery. They are very experienced when it comes to upholstering cars, motorbikes, caravans, boats, and even aircraft. Their experience also covers household furniture, side curtains, canopies, tarpaulins, awnings, annexes, and even sign banners. They also specialise in Bat Shak camper trailer tops, parts and repairs of caravan and motorhomes, selling and re-gassing gas struts, as well as trailer and auto parts.
"Best quality, best service and always at a fair price. Great new shop. Highly recommend!" - Shawn
Huge Range of Upholstery Experience And Vast Workmanship
Over 34 Years of Upholstery Experience
Auto, Caravan, Marine, And Aircraft Upholstery
Commercial, Industrial, and Household Upholstery
Bat Shak Camper Trailer Tops
Caravans And Motorhomes Parts And Repairs
Selling And Re-Gassing A Vast Range Of Gas Struts
Trailer And Auto Parts
"Very good. Fast. Friendly. Good pricing. Straight down the line." - Dave
Excellent Service
Being a veteran local business Taylors Upholstery & Canvas has a reputation for quality workmanship and great customer service. They will always listen to what you need, be able to offer good solutions, and deliver a great outcome so your old worn out upholstery will be new once again.
"Yet another fine example of a local business that look after the customer." - Peter
For Any Type Of Upholstery Work, Get In Touch With Taylors Upholstery & Canvas Today!