Transpares
---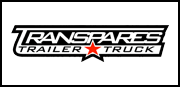 18 Quilter Cres
Atherton 4883
Opening Hours
Mo-Fr: 8:00am-5:00pm
Sa: 8:30am-11:30am
Su: Closed
Do you need reliable and affordable spare parts and accessories for your truck or logistics business?
The team at Transpares Trailer and Truck can help!
We offer a great range of aftermarket and genuine trailer and truck parts, that are currently in stock and for ready immediate pick up or delivery.
Ask the Transpares Trailer and Truck team to help you with:
Engine parts
Turbos
Air suspension and suspension components
Shock absorbers
Springs
Brakes
Compressors
Hydraulics
Alternators
Axles
Clutches
Control valves
Mud flaps
Load biners
Tarps
Ring feders
Lighting
Mirrors
Suspension seats
We know that when you need parts it's difficult to travel into town in your truck, so we have rig parking onsite so you can access the services and parts you need to keep your rig running to its optimal level.
For more information, give the Transpares Trailer and Truck team a call today!