Tropical Pool Technicians
---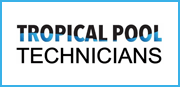 PO Box 1360
Walkamin 4872
Opening Hours
Mo-Fr: 8:00am-5:00pm
Sa: 8:00am-12:00pm
Su: By Appointment
Sparkling Blue Water Every Day
Does it make you happy when you look at your pool? Perhaps you keep adding "clean the pool" to your to-do list and it never gets crossed off? Don't let your valuable asset become an eyesore or a drain on your time. Tropical Pool Technicians can create a clean, stylish and aesthetically pleasing pool that adds to your sense of wellbeing, whether you are entertaining or unwinding.
"David has been very helpful when we had problems with our pool. He installed a new chlorinator just before Christmas and we have a beautiful pool since.... we really recommend Tropical Pool Technicians, always a great service!" - Sabrina
Considering Your Needs Is Our Priority
Depending on your location, the age of your pool, the surrounding environment, your preferences and your budget, you can select the service that best suits you. With a weekly service starting at just $42, you can make the most of your investment and be satisfied every time you look at your pool. Contact us to discuss any kind of pool related needs and we will let you know how we can serve you.
One-Off Assistance
Monthly Service
Fortnightly Service
Weekly Service
"We are very happy with David's monthly service and would recommend him to all pool owners." - John
Equipment Designed For Our Tropical Climate
The personal touch of a local expert will put your mind at ease. David understands the impact of our local weather, temperature and humidity, and will make sure that all the pool extras you have will stand the test of time in Mareeba, Atherton, Malanda, Tolga, Dimbulah, Kuranda and beyond.
Pool Barrier Inspection
Pool Covers - Free Measure and Quote
Pool Lighting
"Prompt and professional service." - Mary
Your Dream Pool - Today! Call Tropical Pool Technicians.